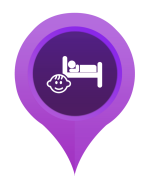 Suitable for children under 1, Suitable for children 1-3, Suitable for children 3-6, Suitable for children 6+
Loyalty program is set on this place.(sleva 10% na ubytování for 0 visits)
parking highchairs sun shaded areas disabled access toilet
Description:
Kemp Ranč Bystřička je umístěn v klidné a vhodné lokalitě a plně uspokojí všechny, kteří hledají ubytování uprostřed přírody na valašsku v okolí Vsetína, Valašského Meziřičí a Rožnova pod Radhoštěm. Kemp oblehlý valašskou přírodou poslouží ke klidné dovolené s relaxací v přírodě. S velkým zázemím a kvalitním servisem dokáže vyhovět i individuálním potřebám jako jsou firemní akce, školní výlety či jiné akce a pobyty na míru. V kempu lze taky využít velkého párty stanu. Pro děti náš kemp nabízí dětské hřiště, sportovní vyžití, trampolínu a další.
Description in English
Our camping suite is located in very calm and nice location and is suitable for everyone that is looking for accomodation in the middle of Wallachian nature around cities Vsetín, Valašské Meziříčí and Rožnov pod Radhoštěm. Campiong suite is surrounded by a nature such as forests or water dam. Our place will serve as a nice vacation spending time relaxing in the nature with high quality background such as cooking, space and other additional services. There is a big party tent availabe for you at the camping suite as well. For your beloved kids we have a playground with trampoline and some other attractions as well as a space for any sport activities.