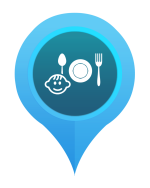 Suitable for children under 1, Suitable for children 1-3, Suitable for children 3-6,
User: Peetja
()
toilet highchairs drinking water parking
Description:
Na návštěvy s dětmi jsou zvyklí, mají moc pěkný dětský koutek. Je ze všech stran ohrazený, má pouze úzký vstup. Je s kobercem (zouvá se) a je tam spousta pěkných hraček. Hodnocení 3 je za kvalitu jídla, neskutečně přesolují, mám problém to sníst já, natož to dát dítěti. Pokud s tím nemáte problém, klidně si zvyšte hodnocení :) WC je v patře po schodech (mají myslím i přebalovací pult).